Gran Canaria
When thinking about learning a new language or exploring a new culture, many different options may come to mind. By opting for a language course at our school in Las Palmas, you are guaranteed an exciting experience in a bustling city overflowing with cosmopolitan ambience, history, culture and warm temperatures all year round.
Las Palmas is the capital of Gran Canaria and the most populated city in the Canaries. It is one of the main attractions in Europe thanks to its delicious local gastronomy, the kindness of its people, its golden beaches and its neverending sunshine. Gran Canaria is truly a "miniature continent", a unique feature of the island that has led the UNESCO to declare over 40% of its ecosystem a World Biosphere Reserve.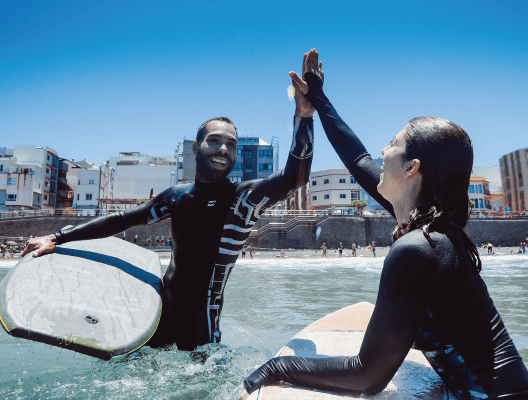 GRAN CANARIA IS

SUN
Gran Canaria, an island of contrasts with a spectacular landscapes which stands out for its wealth of natural beauty, its microclimates and its unique geographical terrain.
There are 60 kilometers of beaches along the Atlantic Ocean, each of them with its own distinct natural features, each of them blessed with a privileged spring- like climate 365 days a year.
The island is also a privileged destination for water sports: sailing, surf, windsurf, bodyboard, diving, sports fishing… unsurprisingly, Gran Canaria is home to some thirty World Champions and six Olympic gold medal winners.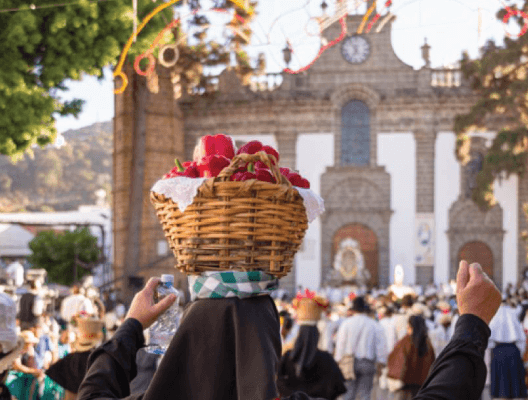 GRAN CANARIA IS CULTURE
Towns and villages with over 500 years of history reflected in the architecture with its distinct colonial flavour, along with centuries-old traditions with their unique Atlantic identity. As a bridge between three continents, Gran Canaria was witness to one of the greatest adventures in History: the discovery of the New World, serving as a link between Europe, America and Africa.
Gran Canaria's vast historic legacy goes way back to the first ancient island dwellers, whose archeological remains complement a fine cultural agenda. In the museums around Gran Canaria visitors come face to face with history, and get an insight into top universal artistic trends.
GRAN CANARIA IS ADVENTURE
Sports lovers have an endless choice of alternatives to combine their favourite discipline with lush countryside, and stunning coastal views.
The year round climate on the island invites one and all to do a wide range of sports in natural surroundings.
Hiking, climbing, surf or cycling routes are just some of the top choices for tourists in Gran Canaria. Enjoy a variety of activities: from a camel ride to a trip in a submarine along the sea bed at Mogán; a voyage to the stunning world of exotic animals at the various zoos, or an unforgettable day on the slides of a water park! In Gran Canaria, boredom doesn't exist.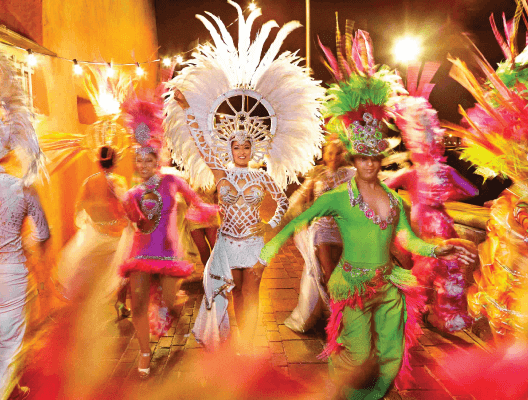 GRAN CANARIA IS FUN
Las Palmas de Gran Canaria is the capital city and the heart of the island. It takes its name from the abundance of palm trees: a testament to its charming, island feel.
Las Palmas has a mainland-Spain feel spiced up with an eclectic mix of other cultures, including African, Chinese and Indian. This unique melting pot is the result of the island's geographical location between three continents. It's an intriguing place, with the sunny languor and energy you would normally associate with the Mediterranean or North African countries. The hooting taxis, bustling shopping districts, chatty bars and thriving port all give off the energy of this city, which is Spain's ninth-largest.
It is located in the north-eastern part of the island, set in magnificent scenery composed of two bays and their beautiful beaches – Playa de las Canteras and Playa de las Alcaravaneras.
Founded in 1478, Las Palmas de Gran Canaria boasts an important historical and cultural heritage, much of which can be found in the district of Vegueta, the oldest quarter of the town.